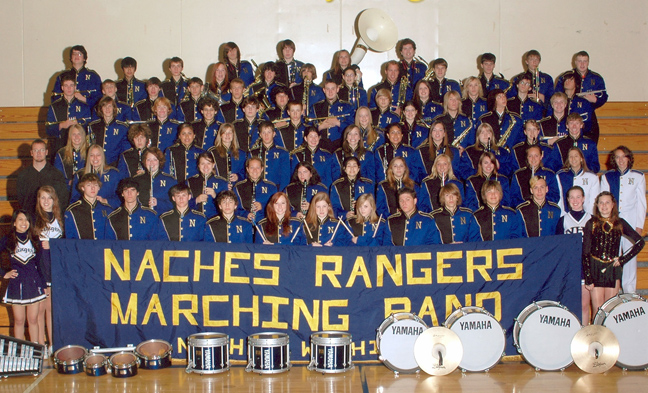 Naches Valley High School
Naches Valley School District
Naches, WA
A Division
Ranger Band
10:30 AM


Jeremy Freisz, Band Director

Drum Majors:Betsy Mansfield, Joel Doehle
Color Guard Captains:Liz Rich, Dani Mansfield
The Ranger Band will be attending the Whistler music festival in Whistler B.C. this spring.
2006 show "Pirates of the Caribbean"



---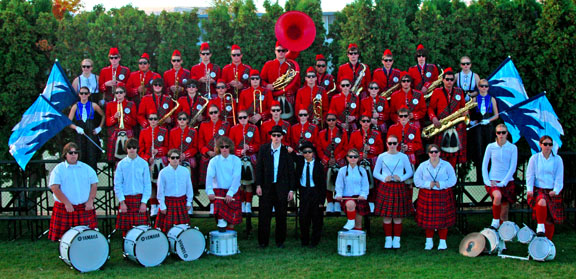 Highland High School
Highland School District
Cowiche, WA
A Division
Highland High School Scottie Marching Band
10:45 AM


John Straehle, Band Director

Show Designer: David Cook
Music Arranger: Michael Brown
Guard Choreography: David Bolzman

Drum Majors: Annabeli Flores, Jonnie Meyers
Guard Captain: Kayla Hollesen
Drum Captain: Caitie Herman

Show Title: "Grease"

Musical Selections: Greased Lightnin', Summer Nights, Born to Hand Jive, and We Go Together

The Highland High School "Scottie" Marching Band place 2nd at the 2005 Harvest Marching Band Festival, winning best brass & winds and best auxiliary, and 3rd place at the 2005 Auburn Veteran's Day Contest. This past April the Highland "Scottie" Marching Band performed in the Disneyland Parade. Highland has 320 students in its 9-12 high school. This is their 5th year of competitive marching and 2nd year with color guard.

The 2006 Highland program brings the movie musical "Grease" to life. The musical selections feature soloists Ashley Trapp on Flute and Patrick Notman on Tenor Sax, (Sandy Olsson and Danny Zuko). Come join the Highland Band as they take you to Rydell High and the "Grease" experience. "GREASE" is the WORD!



---




Sultan High School
Sultan School District
Sultan, WA
A Division

11:00 AM


Jill Sumpter, Band Director

The Sultan "Turk" Marching Band is proud to be performing for the first time at the Harvest Marching Band Festival. The band is under the direction of Jill Sumpter and Jon Pardue. 2006-2007 Drum Majors are Amanda Young, Erika Levin and Nick Pardue. The Color Guard Captain is Ashley Darby.

Today they will performing music from the movie "Grease". Soloists are Cody Young and Braden Copple.

Last fall, the "Turk" Marching Band placed first at the Auburn Veteran's Day Marching Band competition, and at the Columbia Basin Marching Band competition. After a fun spring of traveling to California and performing at Disneyland, they will be returning to Victoria in May, where they have previously placed 1st in the Victoria Days' Parade.
The band would like to thank the Sultan Music Parents for all they do, and the community of Sultan for their support.



---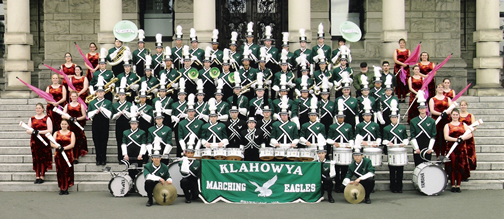 Klahowya Secondary School
Central Kitsap School District
Silverdale, WA
AA Division
Marching Eagles
11:30 AM


Jeff McBirnie, Band Director

Band Director: Jeff McBirnie

Percussion Coaches: Teri Marsh, and Josh Diamond
Color Guard Coaches: Rebekah Salas, and Lance Boggs

Drum Majors: Neil Stallings, Megan Gift, and Katie Hoynes

2006 Field Show
"Birdland" - Arr. Tom Wallace
"Come Fly With Me" - Arr. Mike Story
"Sweet Georia Brown" - Arr. Shane Porter



---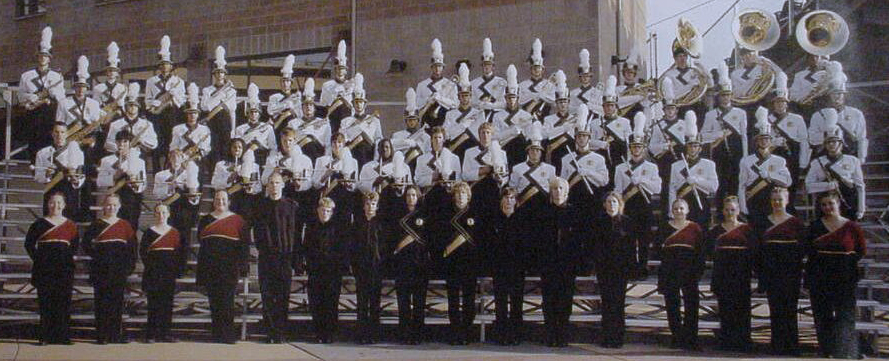 Tumwater High School
Tumwater School District
Tumwater, WA
AA Division
Marching Thunderbirds
11:45 AM


Peter Klinzman, Band Director

The Tumwater Marching Band has been competing in and around the northwest for the last 25 years. Most recently, the Marching Thunderbirds placed 1st in the A division at the Hillsboro Marching Band Competition. The band also won caption awards for high visual and best overall effect.

This year the band is performing Visions Light, Shape and Textures. This piece features solos by Jeremy Allen on flugel horn, Adam Pearce trumpet, Courtney Keller flute and Heather Chambers Alto Sax.

The Marching Thunderbirds would like to thank all our parent volunteers for all their help and the Tumwater United Music Society for their continued support.

The band is excited to be returning to the Harvest Marching Band Festival.




---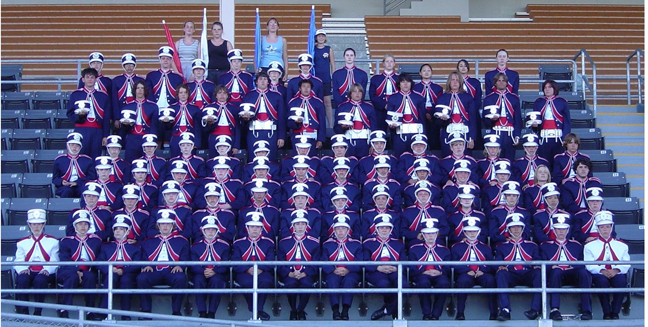 Black Hills High School
Tumwater School District
Olympia, WA
AA Division
Black Hills High School Marching Band
12:00 PM


Tim Kellis, Band Director

"Home of the Wolves"

Performing Members: 87
Show Title: Prince Igor

Assistant Director: Keith Mitchell
Arranged By: Brad Pearson
Percussion Staff: Keith Mitchell
Percussion Arranged By: Keith Mitchell
Drill Design: Jeff Fackler
Guard Staff: Kaylin Eickmeyer
Drum Majors: Senior Morgan Smith
Junior Mason Payne
Guard Captains: Kellie Sanders, Bonnie Yates


Musical Selections:
Prince Igor Overture, Polovetsian Dances #1, Polovetsian Dances-Finale

Black Hills High School Marching Band and Color Guard has competed through out the Northwest over the past 6 years, earning many first place, high percussion, and high visual awards.

Black Hills High School prides it's self on a well rounded music program. We currently offer Jazz Band, Concert Band, Symphonic Band and multiple percussion ensembles. Our Jazz Band earned first place in the AA division at the 2006 Lionel Hampton Jazz Festival, and our percussion ensembles have consistently performed the last 5 years at the WIAA State solo and Ensemble competition held at Central Washington University.

The Black Hills High School Marching Band and Color Guard would like to thank our Band and Percussion parents for their continued support and dedication.
THANK YOU and GO WOLVES!



---




Eisenhower High School
Yakima School District
Yakima, WA
Exhibition Division
Eisenhower Cadet Marching Band
1:15 PM


Dave Walter, Band Director

Director: David Walter
Marching Instructor: Kyler Bachofner
Marching Assistant: Lara Nelson
Drill Design done by: Kyler Bachofner
Color Guard Choreographer: Teena Bailey
Color Guard Coach: Kristin Harris
Drum Majors: Katie Brown and Stephanie Smith
Color Guard Captains: Diane Kennedy and Becca Houck

The Eisenhower Band is excited to perform for you today themes from Broadway's The Lion King. Today we will be performing The Circle of Life, I Just Can't Wait to be King, and King of Pride Rock. The students would like to thank the Ike Band Parents and Administration for all that they do. Without them we surely wouldn't be where we are today. Last year, the Ike band placed third in Auburn's Veterans Day Competition and received Best Marching Caption. Already this year the Eisenhower Band has competed at the Wenatchee Golden Apple Marching Competition and placed second in their division.



---



A.C. Davis High School
Yakima School District
Yakima, WA
Exhibition Division
Buccaneer Marching Band and Color Guard
1:30 PM


Scott Goranson, Band Director

The A.C. Davis Buccaneer Marching Band and Color guard, the Davis Staff, and Band Boosters would like to welcome you to the sixth annual Harvest Marching Festival.

The Band is under the direction of Scott Goranson. Assistant Director is Mike Helseth. Woodwind instructor/Marching & Maneuvering instructor is Mark Claassen. Brass Instructor is Adam Morrell. Mallet Percussion instructor is Rachel Rice, Battery Instructor is Angel Saucedo. Color Guard Instructors are Kellie Forthun and Shellie Lane. The band is led on the field by drum majors Andrew Hoge, Kalyn Foster, and Oscar Covarrubias. Piccolo Soloist is Brenda Budge, Trumpet Soloist is Carlos Pizano.

The band would like to thank the members of the Buccaneer Band Booster organization for their dedication and hard work to provide a great camp, caption heads and all the props and costumes for the show. They would also like to thank the Davis Administration team, staff and our District Music Director Sharon Harris for their continued support.

The 2006 halftime show is entitled SPICES. The music was written by Tim Hinton, and percussion music was written by Mark M. Reil. Drill Designer was Tom Weidner. Color Guard Choreography written by Todd Marcocci.

Welcome to the marketplace. Please join us as we taste the spices from around the world. First, Cayenne Pepper, the hot spicy flavors of South America. Second, Oregano, from your favorite Italian dish, with a dash of the Hungarian spice, Paprika. Next we explore the food of Japan, China and Indonesia with a taste of Ginger. Finally, we offer you Curry Powder, a hot mix of over 16 spices, creating a whirlwind of flavor.

Prepare yourself for a buffet of the senses!

Bon Appetite!



---




University High School
Central Valley School District
Spokane, WA
AAA-S Division

1:45 PM


Mark Tietjen, Band Director

Director of Bands and Orchestra: Mark Tietjen

Design Staff:
Assistant Director and Visual Designer: Bryan Conrad
Marching Instructor: Samuel Schlaich

Percussion Staff:
Battery Instructor: Rick Wallace
Front Ensemble Director: Heather Brown
Percussion Tech: Adam Fukino

Guard Staff:
Color Guard Instructor and Choreographer: Julene Osborn
Color Guard Assistants: Leanne Muller

Guard Captains:
Ashley Sanders and Lara Curtis

Drum Majors:
Senior Drum Major: Madison Frame
Junior Drum Major: Katie Glenn

Show Title:
Music from the Cirque Du Soleil's production-"QUIDAM"

Musical Selections:
I. Atmadja
II. Ninkou Latora
III. Quidam
IV. Incantation

Additional Comments and information:
The University High School Band and Color Guard would like to thank Mr. Daryl Hart, UHS Principal and Mr. Kenneth VanSickle, UHS Activities Director, as well as the University High School Band Parents Association for their continued support of the fine arts at University High School.



---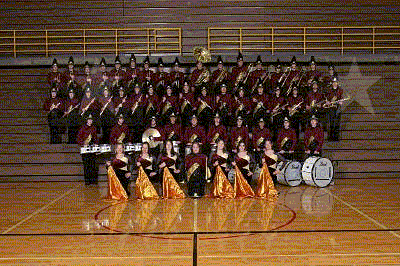 Enumclaw High School
Enumclaw School District
Enumclaw, WA
AAA-S Division
Hornet Band
2:00 PM


Roger Breakfield, Band Director

Program: Phantom of The Opera
-Main Theme
-Wishing You Were Somehow Here Again
-Masquerade
-Music of The Night

Drum Major: Hillary Stewart
Assistant Drum Major: Natalie Harris
Color Guard Captain: Myka Hart
Drumline Section Leader: James Mitsuyasu

Musical Arrangements: Jay Bocook, Paul Lavender
Percussion Arrangements and Instruction: Mike Nederhood
Color Guard Choreography and Instruction: Melissa Breakfield
Visual Instruction: Melinda Wyble, Rebecca Sweem


The instrumental music program at Enumclaw High School includes two concert bands, two jazz bands, jazz combo, marching band, orchestra, rock bands and an active chamber music program. Students from the band program are active participants in honor groups such as All-State, Western International Band Clinic and at Pacific University and Pacific Lutheran University. The Hornet Marching Band is a separate class from the concert bands for which students receive a physical education credit.



---




Shelton High School
Shelton School District
Shelton, WA
AAA-S Division
Highclimber Marching Band
2:15 PM


Randy Grostick, Band Director

Show Title: The Rise and Fall of Rome
Musical Selections (movements): Chisels & Stone, Catacombs, Pagan Dance & The Great Fire

Soloists: Camille Coleman
Drum Majors: Emilie Schnabel & Sam Densley
Color Guard Captains: Valerie Close, Melissa Wood, & Sarah Gates

Band Director: Randy Grostick
Color Guard Instructor: Mary Kay Anderson
Assistant Band Director: Gar Thornton
Percussion Instructor: Keith Mitchell

Music composed by Key Poulan
Percussion arranged by Keith Mitchell
Drill Design by Mitch DeGrace

Shelton High School would like to thank the community and parents for all of their support and hard work.




---




Richland High School
Richland School District
Richland, WA
AAA-S Division
Bomber Marching Band
2:30 PM


Allan Eve, Band Director

Richland High School
ProudlyPresents&
THE BOMBER MARCHING BAND

Our 2006 Show Theme: Music from Dantes novel:
The Divine Comedy
We will perform THE INFERNO, PURGATORIO, Percussion Feature from THE RITE OF SPRING, and ending with PARADISO. English Horn and Alto Sax solos are by Alicia Kippes, and flute solos by Mary Kathleen Trotta.
The story traces Dantes imaginary journey through hell, purgatory and heaven. During his travels, he encounters historical and mythological creatures symbolic of faults and virtues. Beatrice, Dantes great love whom he regarded as a manifestation of the divine, is his guide through paradise.

STUDENT LEADERSHIP:


Drum Majors:
Dana Hulke
Daniel Hartley
Color Guard Captain is:
Melinda Snell
with Co-Captain Cheyene South

Section Leaders:
Jessica Christensen--flutes
Brett Dixon --clarinets
Alicia KippesAlto Saxophones
Sarah Mowry Tenor Saxophones
Emily Bishop--bell fronts
Kim Scheidegger --trumpets
Chelsae Linehanlow brass
Andrew Shupe--drumline
Cynthia Hickeypit percussion

Our STAFF:
Matthew Elliott, Marching Coach
Mindy Kraychee Color Guard Coach
Matt Larsen, Drumline Coach
Kelly Allen, Pit Percussion Coach
Annie Weldon, Assistant Marching
And
Allan W. Eve, Director of Bands



THANKS TO THE INSTRUMENTAL MUSIC BOOSTERS FOR THEIR HELP IN STAFFING OUR ACTIVITY.




---




Kennewick High School
Kennewick School District
Kennewick, WA
AAA-S Division
Pride of the Columbia Empire
2:45 PM


Randy Bjur, Band Director

Drum majors: Andrea Elliott and Alberto Moreno
Colorguard captains: Jaymie Brackney and Cassandra Evans
Guard instructor: Kate Weir
Percussion Instructor: Eric Yarmarkt
Drill Design: Kary Etherington
Guard Choreography: Teena Bailie
Music arrangements: Jason Rose

The Kennewick High School Marching Band presents our 2006 show, Atlantis. The 3 parts are titled Atlantis, The Temple of Poseidon and Wrath of the the Gods. They depict the prosperity, culture and eventual destruction of that mythical city. The music pieces depicting these scenes are the theme from Stargate Atlantis, Cloudburst and the White Whale from Moby Dick.






---




West Valley High School (Yakima)
West Valley School District
Yakima, WA
AAA-S Division
Ram Marching Band
3:00 PM


Ron Gerhardstein and Maegan Ley, Band Director

The West Valley High School Ram Marching Band proudly presents their 2006 field show "The Mask of Zorro." The band is co-directed by Ron Gerhardstein and Maegan Ley. Color guard is instructed by Lorie Holtey and advised by Susan Gleeson and Susan Jacobson. Percussion is instructed and arranged by Yeon-hee Yim and Brian Adams. The Mask of Zorro features three movements: Zorro's Theme, Diego's Goodbye, and Zorro's Finale "the freeing of the slaves." The band is led on the field by drum majors Erica Buege and Bob Smith. The West Valley High School band program includes two concert bands and two jazz bands. Recent marching awards include 1st place AAA-Small at the 2005 Harvest Festival and best marching and percussion, and 3rd place in the Open division of the 2005 Pacific Northwest Marching Championships in Spokane. The West Valley program was also awarded "Best Overall Instrumental Program - AAA division" at the 2006 CBC Jazz Unlimited festival.



---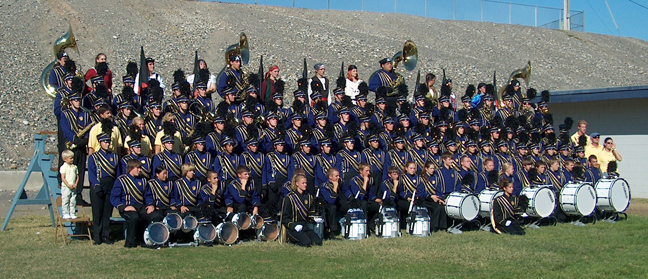 Wenatchee High School
Wenatchee School District
Wenatchee, WA
AAA-L Division
The Wenatchee High School Golden Apple Marching Band and Auxiliary
3:30 PM


Jim Kovach, Band Director

Show Title: Et in Terra Pax
Director: Jim Kovach
Assistant Director: Tim Zanol
Auxiliary Advisor: Minnie Obregon
Choreographers: Elvis Garcia and Matt Schneider
Drill Writer and Visual Instructor: Lisa Zanol

Flute Technician: Beth Jensen
Clarinet Technician: Glen Carr
Saxophone Technician: Tami Kitner
Trumpet Technician: Erin Luebber
Low Brass Technician: Ed Simmons
Battery Technician: Brian Schuster
Front Ensemble Technician: Jon Koenig

Assistant Auxiliary Instructor: Katie Greene
Assistant Visual Instructor: Christine Fleisher

Drum Majors: Margot Meuleman & Alix Crilly
Auxiliary Captains: Hannah Kayser & Cristina De Robles

A plea for peace expressed by means of our performers, we bring a rhythmically and harmonically exciting program to you this year. Et in Terra Pax, meaning Peace on Earth, musically and visually represents the viciousness and senselessness of war. Fear of violence and destruction is sensed throughout the program with bombastic and aggressive sounds, while an underlying theme of peace and tranquility lays the foundation. Whilst the recapitulation of battle cries echo, we attempt to make way in the end for our sincerest hope: May peacefulness replace cruelty in everyday life too.




---




Cascade High School
Everett School District
Everett, WA
AAA-L Division
Cascade Sound
3:45 PM


Patty Baugh, Band Director

Cascade Sound
Cascade High School
Everett School District
Everett, WA
AAAL


Patty Baugh, Band Director

Program Coordinator: Mitch DeGrace

Color Guard: Megan Price, Katherine Eastman, Diane Davey, Elvis Garcia

Visual: Stephanie Reger, Jason Mahoney

Percussion: Josh Fulfs, Andrew Doedens, Ken Aphibal, Randy Grostick

Winds: Jim Rice

Wind and Percussion arrangements by Mitch DeGrace, David Knight and Joe
Fant.

Color Guard Choreography by Megan Price and Katherine Eastman

Drum majors: Stephanie Jasper, Katie Breysse, Rebecca Rice

Color Guard Captains: Katie Gordon, Angela Null, Amanda Habben

Horn Captains: Kyle Woods and David Benson

Show title: Oasis

In three acts: Pursuit - Mirage - Destiny, the Cascade Sound will take
you on a journey in search of the Oasis.

In act one, through the driving rhythms of "Bangkok" - the band pursues
their destination through the desert. Tchaikovsky's "Arabian Dance"
provides a canvas for act two: Mirage. Look for the emergence of water
- then it fades. In act three, after the band reaches their destiny "A
Night in Tunisia" evokes jubilation and celebration.




---




Pasco High School
Pasco School District
Pasco, WA
AAA-L Division
Pasco High School Marching Band
4:00 PM


Russ Newbury, Band Director

The Pasco High School Marching Band is under the direction of Russ Newbury. During Mr. Newburys first four years at Pasco High School, the band has been making continual progress toward high levels of performance in the area of symphonic, jazz and marching bands. The Pasco Public Schools has made music education an important part of the overall educational package for all grade levels. The Board of Directors have been fully invested in a summer band program and an instrument for loan program that has made music a vital part of the Pasco community.

Staff:

Band Director, Music Arranger, Drill Writer: Russ Newbury

Colorguard Instructor and Choreographer: Loralee Newbury

Percussion Arranger and Instructor: Chris Newbury

Assistant Directors: John Nelson, John Owen,
James Bennett
Percussion Instructor: KC Flynn, Matt Henderson

Brass Tech: Bruce Brown

Woodwind, Marching Techs: Adam and Diedre McCollum

Assistant Colorguard Instructor and Choregrapher: Adrienne Barton and Anna Newbury

Show Title TRIAD

Show Description:

TRIAD is an original composition for marching band written by composer Russ Newbury. Both the musical and visual concepts generate varied images of THREE. The most obvious orchestrational textures are exposed in the interplay between brass, woodwind and percussion ensembles. Musically, such devices as Triads (three note chords), three note melodic patterns, and triplet rhythms are employed, to further enhance the concept of THREE. The entire production of TRIAD is inspired by the current Drum and Bugle Corps movement that is both, visually and musically stimulating.

Drum Majors: Josh Romain, Mark Gage
Colorguard Captians: Hannah Polomsky, Darcy Calhoun




---




Mt. Spokane High School
Mead School District
Mead, WA
AAA-L Division
Mount Spokane High School
4:15 PM


Scott Jones, Band Director

Show Designer: Mark Staley
Music Arranger: Rob Lewis
Guard Director: Nancy Butz
Guard Choreography: Heidi Reynolds

Percussion Staff: Nick Sandhal, Heather Brown


Visual Staff: Mark Staley, James Layman, Sam Schlaich


Guard Staff: Kristin Harvey


Guard Captains: Brooke Haley, Lisa Meyer. Sarah Gill


Drum Majors: Chad Blashill, Christy Houck


Show Title: KA


Musical Selections: O Makunde/Pageant, Love Dance, and Pursuit

Past Awards, Honors, Accomplishments, Highlights and Acknowledgements:


The Mt. Spokane High School "Wildcat" Marching Band was the 2005 winner of the AA Division at the Northwest Marching Band Circuit Championships winning Best Guard, Best Percussion, Best Music, Best General Effect, and 2005 Northwest Marching Band Circuit AA Class Champions. The Band was also the Sweepstakes winner at the 2005 Pacific Northwest Marching Band Championships winning Best Marching and Best Drum Major. The Band would like to extend a special thank you to Dr. Marshall from Eastern Washington University for allowing us to use his cello.

Additional Comments and information:


The 2006 Mt. Spokane program brings to life the epic tale from Cirque Du Soleil's latest masterpiece "KA." KA is a tale of two twins separated at a young age, broken from their destiny only to journey through life on their way back to each other. The opening movement represents the struggle and separation of the twins. Movement 2 explores the depth of the bond twins share with one another: their emotions, thoughts, and desires. The culmination of the show starts with a drum solo and battle sequence on the field leading to the reuniting of the twins. The members of the Band would like to thank the parents for their dedication in making this years epic program a success.


Ladies and Gentlemen please sit back and enjoy the experience that is KA.




---