Mt. Spokane High School
Mead School District
Mead, Washington
Open Division
Mt. Spokane Wildcat Marching Band
8:15 AM


Sy Hovik and Andrew Savage, Band Director

Directors: Sy Hovik & Andrew Savage

Staff
Music Design: Jeff Chambers and Sy Hovik
Visual Design: Andrew Savage, Sy Hovik, Tyler Jones, and Nancy Butz
Drill Writer: Tyler Jones
Sound Design: Tim Mitchell
Guard Choreography & Caption: T'Lacy Amburgey
Visual Caption: Minnie Bliesner
Visual Staff: Andrew James, Tyler Sewell
Music Caption: Michael McConville
Music Staff: Will Peterson, Ben Kruger, Bekah Blanchard
Percussion Caption: Zac Ziegler
Battery Staff: Jordan Binder, Chad Matchell
Front Ensemble Staff: Bryan Swenland, Brenden Archer
Head Sound Technician: Bryan Swenland
Dance Team Advisor: Nancy Butz
Color Guard: Kaity Savage, and Annie Bond


Leadership Team:
Head Drum Major: Julia Costello
Assistant Drum Majors: Rachelle Austin & Kelsey Swenland
Horn Sergeant: Ben Bradley
Brass Captain: Tyler McCulloch
Woodwind Captain: Jesiah Le
Guard Captain: Carter Brown
Section Leaders: Megan Freeman, Lara Johnson, Aubrey Ewing, Micah Engh, Luke White, Ella Fetters, Ella Melin, Kaelin Magee, Sawyer Peterson, Cole Henry, Sam Schaefer, Kennedy Comstock, Nathaniel Bettencourt, Conlin Moyer, Riley Shaw


Show Synopsis:

The Mt. Spokane Marching Band & Color Guard is proud to present its 2023 production, "Beyond Possible!" This year's show follows Nepali mountaineer, Nimsdai Purja, and his record breaking journey of climbing the 14 highest peaks in the world, and compares it to overcoming challenging or difficult times in life. We look forward to sharing the field with so many talented performers and designers in today's competition. Congratulations to all of the marching bands for representing all of their schools and communities with class! The Mt. Spokane Wildcat Marching Band would like to thank all of its parent supporters, drivers, building crew, and the MSHS Bandstand for all of their contributions. We couldn't do this without you!




---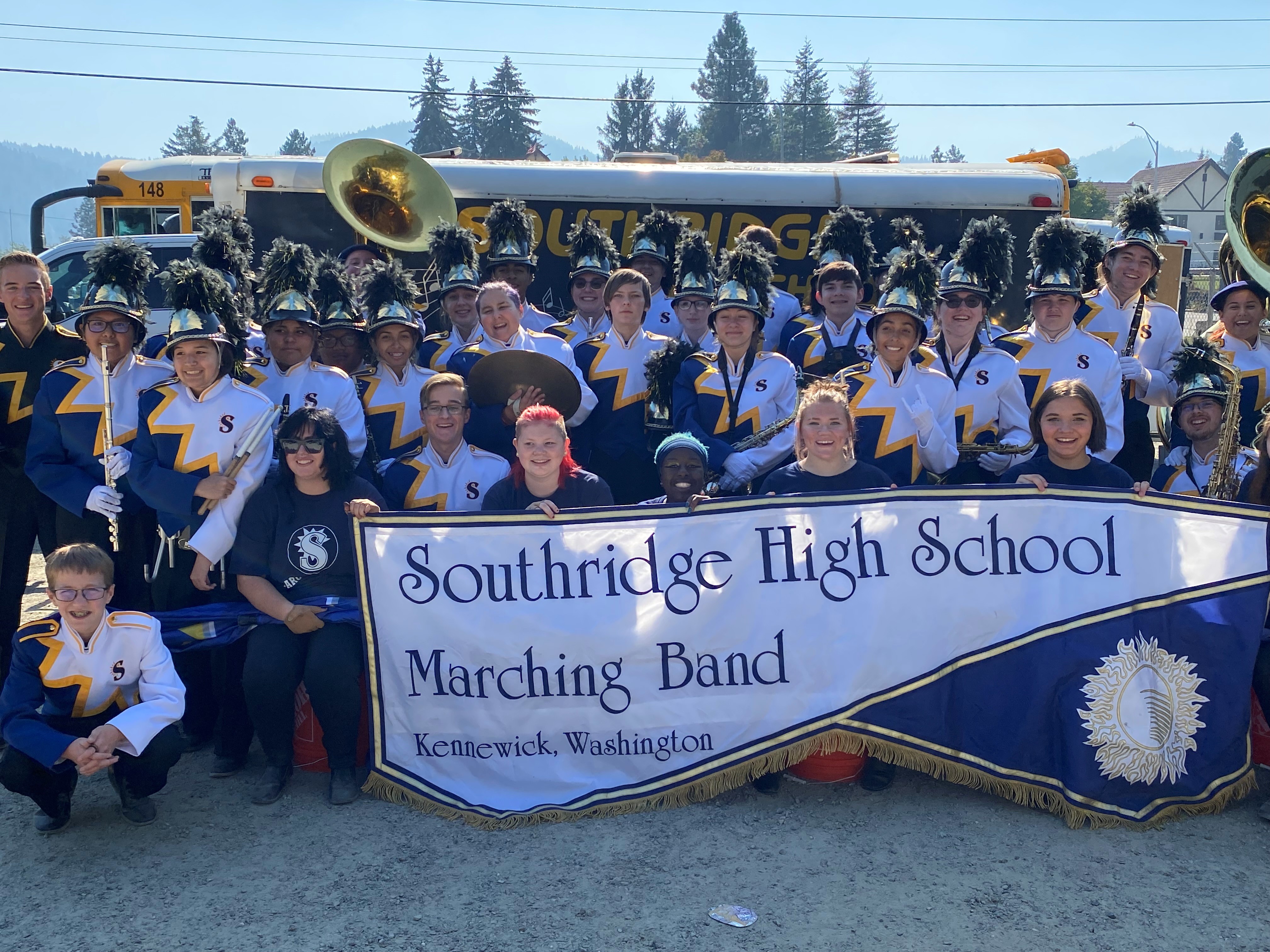 Southridge High School
Kennewick School District
Kennewick, Washington
A Division
The Sound of Southridge
8:30 AM


Joshua Lindberg, Band Director

Ladies and Gentlemen please welcome:
The 2023 Southridge High School Marching Band "The Sound of Southridge"

The 2023 Marching Band is under the direction of Dr. Joshua Lindberg
with percussion coaches: Brett Baker, and Katie Simm
The Color Guard is coached by: Diane Okerman
The Winds and Brass are coached by: Nick Rice and Arissa Resendiz
The Band is led by Drum Major: senior Owen Ace and junior Adrianna Chavez.

Now prepare to be utterly captivated as the Southridge High School Marching Band summons the very essence of thunder and glory, proudly unveiling: Thor's Hammer!
In a amazing journey that will leave you breathless, we embark on an epic odyssey following the Norse God of Thunder himself as he strides boldly into the heart of battle! Our journey begins with the first movement, a spellbinding portrayal of the majestic city of Asgard, a realm of unparalleled grandeur and awe.
But the tale only begins to unfurl as we delve into the second movement, an awe-inspiring spectacle that witnesses the birth of none other than Thor's legendary weapon, the awe-striking Mjolnir! The heavens themselves shall tremble as this mighty hammer is forged in the fires of destiny.
The third movement, an ode to Odin, the All-Father, will transport you to the very heart of the cosmos, where gods and mortals alike bow before his infinite might and wisdom.
Yet, the grand crescendo of our epic narrative unfolds in the final movement, a titanic clash between the God of Thunder and the enigmatic Frost Giants! Prepare to witness a battle of such magnitude that the very Earth beneath your feet shall quake, as the fate of worlds hangs in the balance.
Join us, dear audience, as we weave a tapestry of valor and myth, where every note, every step, and every heartbeat resounds with the might of Thor's Hammer. This performance shall etch itself into the annals of your soul, leaving you forever changed by the thunderous power of our musical saga!

The SHS Marching Band would like to thank the Southridge Music Boosters, Parents, Fans, and School Administration for their time, effort, and support!



---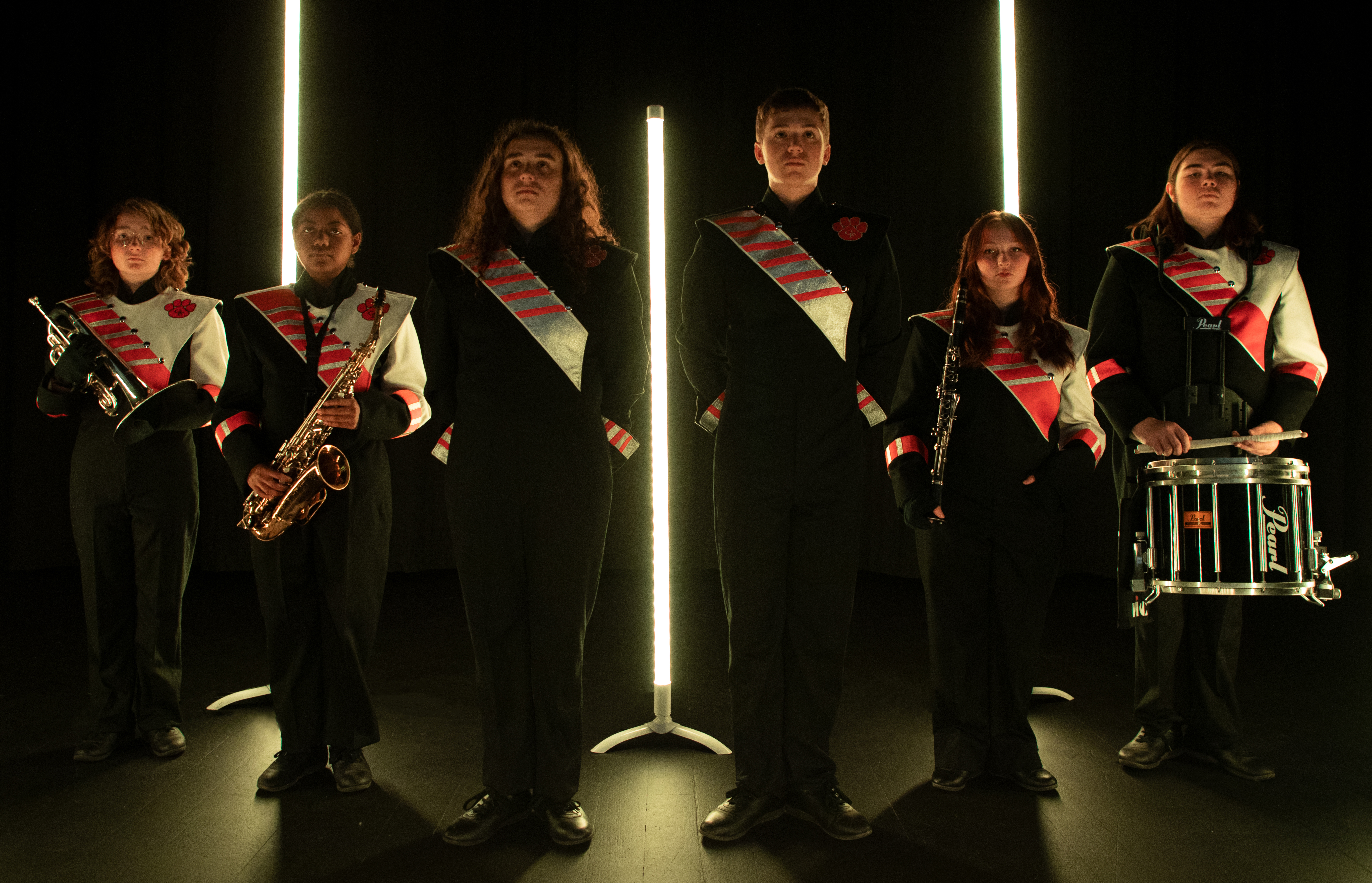 Granite Falls High School
Granite Falls School District
Granite Falls, Washington
A Division
Granite Falls High School Marching Band
8:45 AM


Schyler Williams, Band Director

GENERAL INFO: The Granite Falls High School Marching Band is in its fourth year as a marching band and third year as a competitive band. They have attended competitions in Tumwater, Sumner, Everett, and Auburn. In 2022, they received 2nd place in the Auburn Veteran's Day Parade; in 2019, they received 2nd place in the Sumner Sunset Festival of Bands.

Staff:
Band Director - Schyler (Skyler) Williams
Music Arrangmenet - Schyler Williams
Sound Design - Schyler Williams
Drill Design – Schyler Williams
Prop Design - Schyler Williams and Sadie Papp
Story Design - Schyler Williams, Greyson Clevelnger, Steven Berlin
Band Visuals – Schyler Williams and Brooke Rundle
Color Guard Choreography – Nicole Neufeld
Percussion Tech - Tyler Ussery
Brass Tech - Eric Diehl
Marching Tech – Nick Novy

Drum Majors – Greyson Clevelnger and Steven Berlin
Color Guard Captain – Ari Dimitrova
Mellophone Soloists – Sadie Papp

DESCRIPTION:
Amidst the backdrop of a dark and stormy night, a solitary figure sits inside, entranced by the mesmerizing glow of their smartphone, lost in an overstimulating digital world.
A sudden power outage shatters their electronic cocoon, leaving them in a daunting darkness. Disconnected from their digital lifeline, they grapple with a lack of meaning.
As the storm subsides, their senses gradually calm and tune in to everything that usually goes unnoticed—the gentle windchimes, distant nightbird melodies, and gentle raindrops. A newfound joy blooms from this reconnection with nature's simple beauty.
An abrupt interruption—the power returns, the circuit reconnects. The habitual cycle of smartphone dependence triggers an internal struggle.
They yearn to break free, to recapture the unfiltered happiness found beyond the screen. But as the glow beckons, the journey to liberation proves easier said than done.
Join us in 'Circuit Break,' a modern tale of our struggle to find the balance between the digital and natural worlds. Break free from destructive cycles, reset the circuit, and rediscover the symphony of living authentically.

Musical works include:
High Voltage by Randall Standridge
Voltage by David Shaffer
Lightning! by Todd Stalter
Electricity by Brian Balmages
Kyiv 2022 by Brian Balmages
The Time Elapsed by Schyler Williams



---




Liberty High School
Hillsboro School District
Hillsboro, Oregon
A Division
Liberty High School Marching Band and Colorguard
9:00 AM


Kevin Soon, Band Director

"A Single Step"

Standing on a promontory overlooking the cloudy land below, an adventurer pauses to survey the terrain that stretches out before him. In Caspar David Friedrich's 1818 masterpiece Wanderer Above the Sea of Fog, we are connected to the feeling of anticipation before venturing into the unknown. We all live lives filled with moments of wandering, searching, and climbing, never knowing what will come next. All we can do is move forward in bravery, remembering that "A journey of a thousand miles begins with a single step".

Symphony No. 9 in E minor "From the New World" by Antonin Dvorak
The Climb by Miley Cyrus

Design Staff
Winds - Cooper Ottum
Battery - Ryan Tai
Front Ensemble - Jacob Sanford
Visual - Kevin Soon
Colorguard - Delanie Nestor

Instructional Staff
Percussion Director - Ryan Tai
Battery Instructor - Isaac Cannon
Front Ensemble Instructors - Marley Carson, Henry Wills
Visual Director - Adam Bacu
Colorguard Director - Delanie Nestor
Colorguard Instructor - Lauren Anderson

Drum Major - Beth Sohler
Colorguard Captain - Addison Soon



---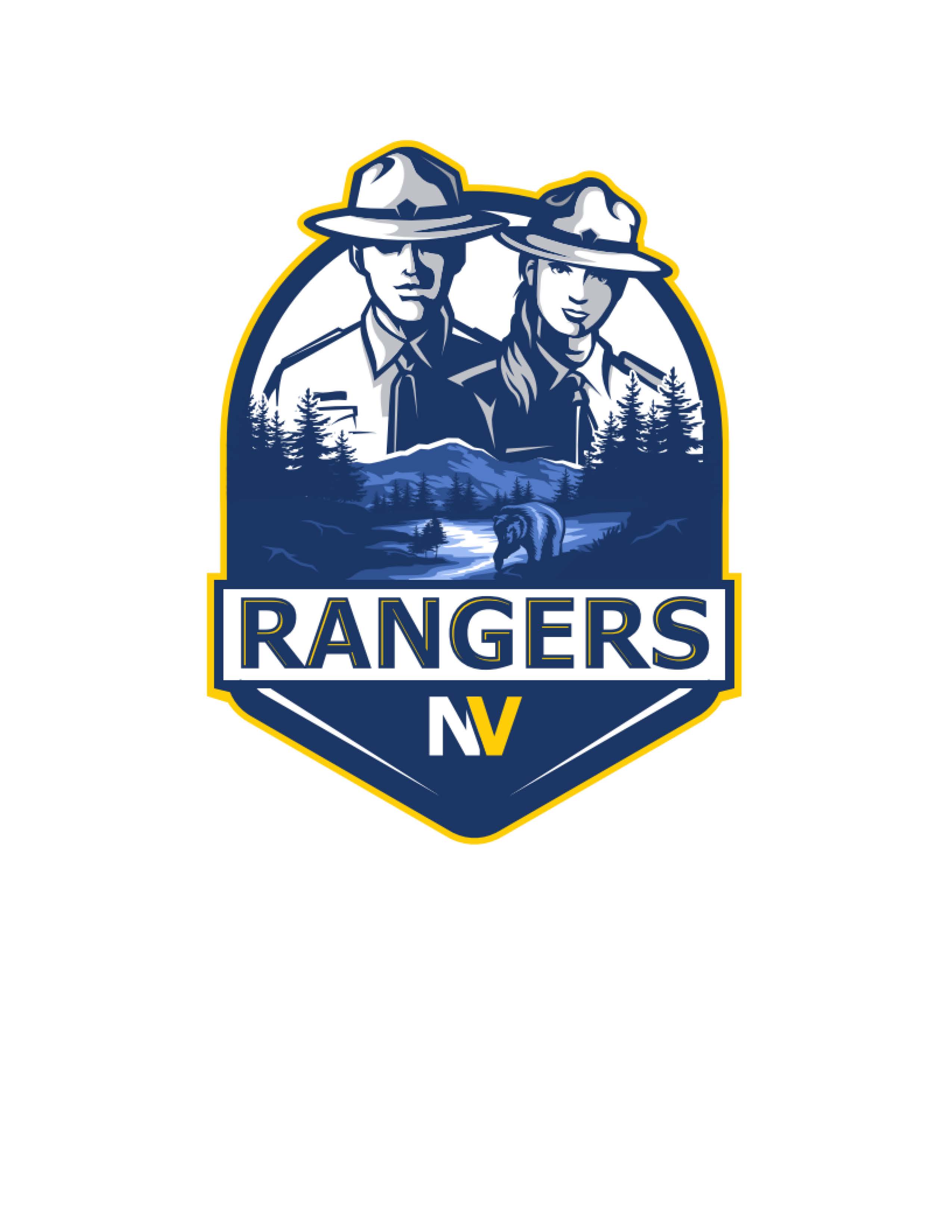 Naches Valley High School
Naches Valley School District
Naches, Washington
A Division
The Ranger Marching Band
9:15 AM


Corban Epp, Band Director

The Naches Valley High School Ranger Marching band consists of students in 7th-12th grade. This is band is re-entering into competitive marching events after a hiatus due to COVID and multiple transitions. We are more excited than ever to participate!

The Ranger Marching Band will perform "Wild Wild West" by Jeff Chambers.

"How many spaghetti western movies have you seen? We've seen a lot! And many of them were the inspiration for this show. Intended for a smaller band, this show packs a punch! It allows your small ensemble to look and sound great, while also telling the classic wild west story complete with cowboys, sheriffs and duels." (JC Music).



---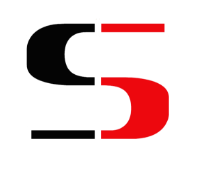 Sunnyside High School
Sunnyside School District
Sunnyside , Washington
A Division
Sunnyside High School Marching Band
9:30 AM


Zachary Petty, Band Director

Additional Staff:
Joshua Parrill - Assistant Director
Jose Torres - Color guard
Monique Pena & Riley Rasmussen - Percussion

Mateo Mora - Drum Major

Show Name: A Return to the Classics

Show Description:
Join us on a musical journey through the annals of rock 'n' roll history, as we pay tribute to the iconic classics that have left an indelible mark on the hearts of generations.



---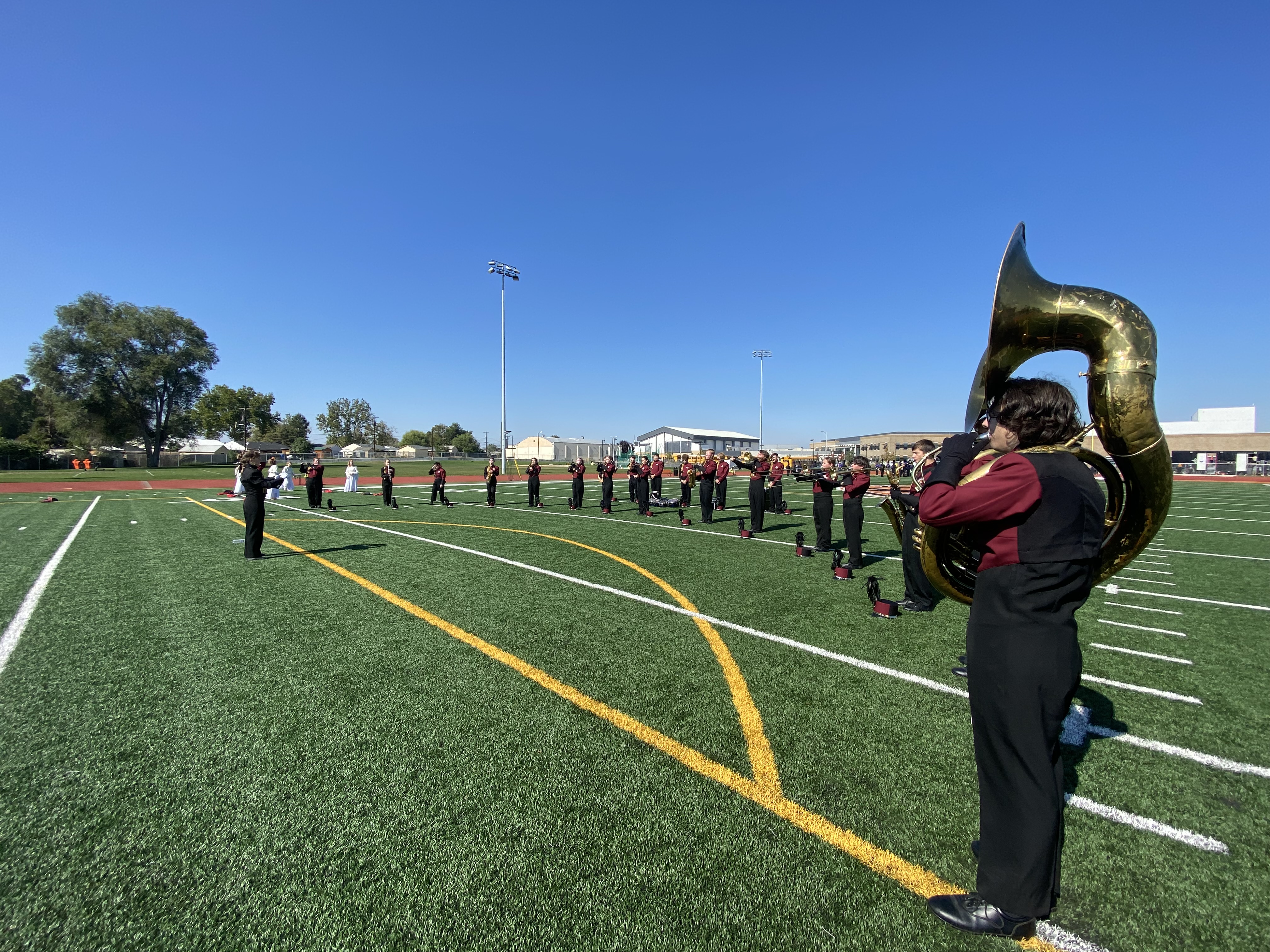 Cle Elum Roslyn High School
Cle Elum Roslyn School District
Cle Elum, Washington
A Division
Warrior Marching Band and Color Guard
9:45 AM


Aaron Tuchardt, Band Director

Our small marching program is made of dedicated students that work with a large number of staff to create a small and fun show. Our mission is to bring marching band to students that need guidance, and to provide opportunities for students to succeed. We have 10 staff members which averages 4 students per instructor. We have won numerous marching competitions in our division including Cavalcade, PNW Marching Band Championships, and Harvest. This year we will be performing our show "Sea and Song" at all three festivals. Our show depicts a group of undersea creatures discovered by an outsider. Scared but intrigued the outsider falls in love with their way of life but is betrayed by his own people.

Staff:
Jaime Ramos - Visual Caption Head
Carter Little - Saxophone/Visual
Kayla Arciniega - Trumpet
Dylan White - Low Brass
Kenzie McDonald - Flute
Tori Capetillo - Guard
Kerensa Monnie - Guard
Warren Murray - Drums/Perc
Francisco Gonzales - Clarinet
Sascha Burkhardt - Low brass/visual



---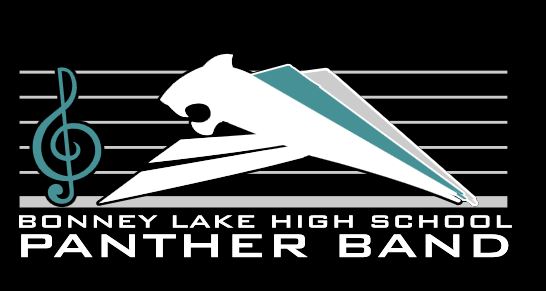 Bonney Lake High School
Sumner-Bonney Lake School District
Bonney Lake, Washington
AA Division
Bonney Lake High School Panther Marching Band
10:15 AM


Meredith Heinzmann, Band Director

Show Title: Flare
Personnel
Director: Meredith Heinzmann
Colorguard Coach: Elli Matthews
Percussion Tech: Reanne Nakapa'ahu
General Tech: Kristin Mackley
Visual/Marching Tech: Ryan Randolph
Director's Assistant: Luke Tangen
Front Ensemble Assistant: Gabriella Bythrow
Music: Cole Sage, Jacob Ludlow
Drill Design: Tyler Jones

Student Participants: 56
Drum Majors: Andrew Neumann, Cole Sage

Bonney Lake High School and the Sumner-Bonney Lake School District are proud to present the award-winning Panther Field Show Marching Band with their 2023 program "Flare." Come along with the Panther Band in a four-movement exploration of different kinds of fire and light featuring original music written by Cole Sage and Jacob Ludlow.



---




Richland High School
Richland School District
Richland, Washington
AA Division
Bomber Marching Band
10:30 AM


Matt Larsen, Band Director

The Richland High School Bomber Marching Band is proud to present, Bright Ideas. Musical themes include Bach's "Invention Number 13 in A minor", "Pure Imagination" from Willy Wonka and the Chocolate Factory and "Light 'Em Up" by Fall Out Boy. Featured soloists include Hailey Carpenter on flute, Dylan Trigg on tenor saxophone and Forest Carson on Baritone.

Wind arrangements by Joshua Hinkel. Percussion score by Aaron G. Railey

Drill composed by Tyler Jones, Colorguard Choreography by Jill Clarke.

Assistant Director: Rudy Guidry

Marching Staff: Daniel Moses and Ethan Hughes

Colorguard Coach: Courtney Guffey

Front Ensemble Coach: Noelle Oxford & Thomas Whalen

The Bomber Marching Band would like to thank all of the parent volunteers who have donated their time, food and expertise to help our band have a successful season.

Drum Majors: Andrea Caiceros and Pedro Ponce



---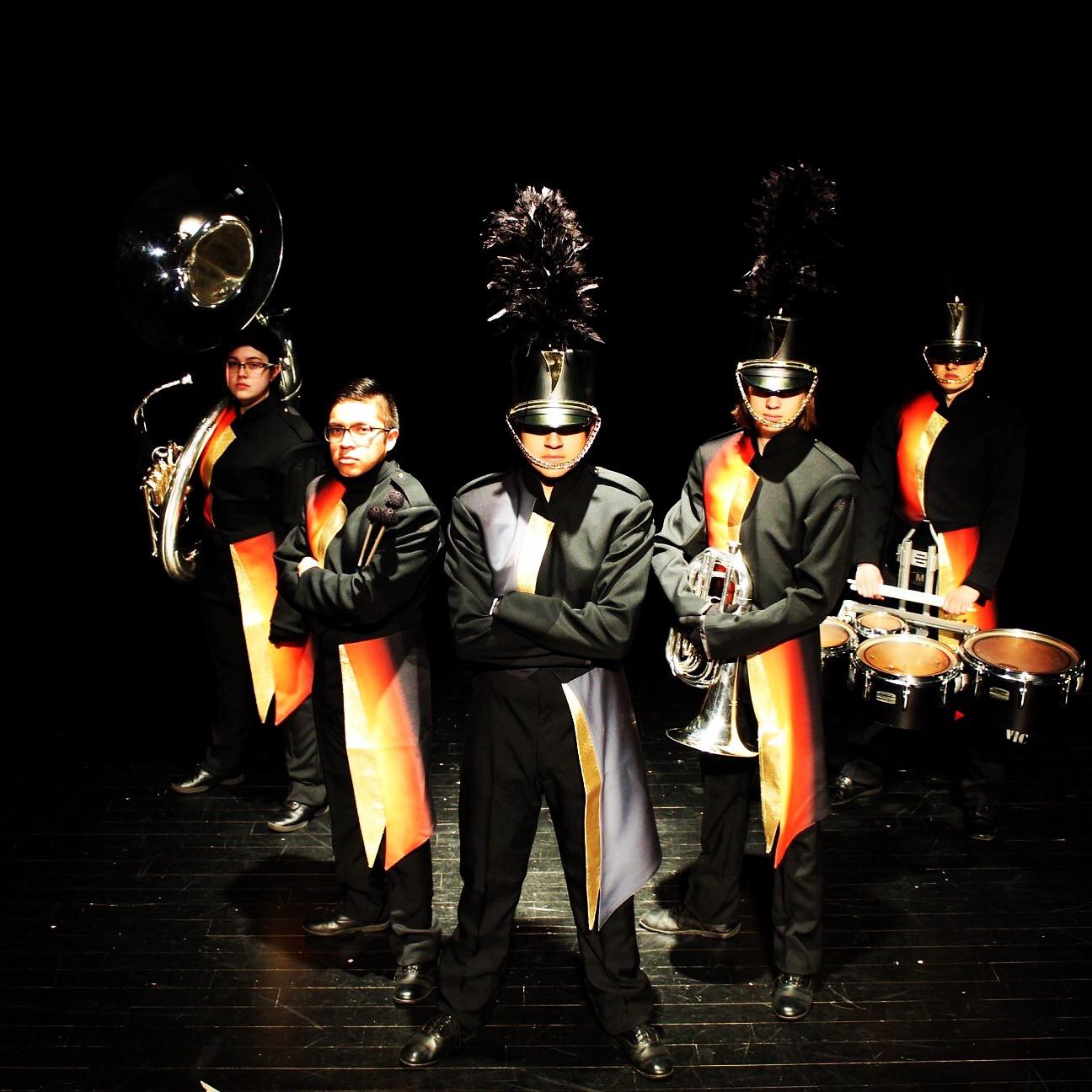 Kennewick High School
Kennewick School District
Kennewick, Washington
AA Division
Kennewick Marching Pride
10:45 AM


Jon Miller, Band Director

Director- Jonathan Miller
Music staff- Jacob Sanders, Fiona Estrellado, Ethan Hughes, Bridger Call
Percussion Staff- Cassandra Miller, Patrick Downey, Jax Pond, Owen Moore
Colorguard Staff- Sarah Davis, Ives Davis

Drum Majors- Aidyn Sanders & Blaise Epperson
Colorguard Captain- Caitlyn Smith
Horn Seargent- Julian Kvamme

Music arrange by Lewis Norfleet & Jonathan Miller

"La Vida explores the wonders and complications of a human life trying to live in a structured society. Our first act with Bolero sounds like a serious march. There is a monotonous and repetitive theme which can be compared to the daily structured life of the average human who is just trying to fit in and work hard like everyone else to make it. Libertango then opens up and offers a sense of freedom from the repetitive labor of before. Oblivion is a realization of failure over trying to achieve something different in this life and the fear of never being able to move on from it. And we finally end with Livin La Vida Loca, the final movement is about taking a chance on a colorful and vibrant life. There is risk and there is fear, but this is what living is about. This is the Life!"



---




Highland High School
Highland School District
Cowiche, Washington
AA Division
Highland High School Scottie Marching Band
11:00 AM


John Straehle, Band Director

John Straehle: Band Director
Highland High School Scottie Marching Band
2023 Program: Highlander

Staff:
Band Director - John Straehle
Band Arrangements – Tim Mitchell & Luke Dedominces
Drill Design – Tyler Jones
Band Visuals – Tyler Jones
Color Guard Choreographer – James Haynes
Percussion Instructor – Dave Rowley
Trumpet Tech – Alev Ucar
Marching Tech – Cadence McMillian

Drum Majors – Ivan Rydberg and Sydney Ward
Color Guard Captain – Valery Magallon
Front Ensemble Captain – Isaac Jensen
Battery Captain – David Vega
Trombone Soloist – Kole Jones
Mellophone Soloists – Jayden Connelly, Anna Jensen
Tuba Soloist – Alastor Smith
Marimba Soloist – Isaac Jensen
Guard Soloists – Loryn Wahlstrom, Valery Magallon

GENERAL INFO: Highland HS is a class 2B high school just west of Yakima. Their enrollment is 350 students grade 9-12. The Scottie's receive numerous awards from around the state. They would like to thank the communities of Cowiche and Tieton for their continued support.

SONGS:
1. Part 1 – Princes of the Universe
2. Part 2 – Who Wants to Live Forever
3. Part 3 – A Kind of Magic

DESCRIPTION:
The show chronicles the 1986 movie Highlander where there is a climax of an ages-old battle among immortal warriors, depicted through interwoven past and present-day storylines within the music of QUEEN.
Today join the Highland Scottie Band as they tell the story of Connor MacLeod from the Scottish Highlands. One of a number of immortal warriors that must fight to the end. There can be, only ONE!




---




Hanford High School
Richland School District
Richland, Washington
AAA Division
Hanford High School Marching Band
12:15 PM


Adam Hancock, Band Director

Hanford High School Marching Band 2023
Beyond the Planets
Music composed by Gustav Holst
Narration from Cosmos, by Carl Sagan

Drum Majors: Carly Lane and Adalynn Claybrook

Colorguard Captains: Katherine Cooper and Katie Ward

Design Staff:
Production Design – Adam Hancock
Wind Arrangements – Lewis Norfleet
Percussion and Sound Design – Eliud Ayala, Tyler Figueroa,
and Aaron Rausch
Drill Design – Nick Benson
Colorguard Design – Amy Hancock and Holly Sciuto

Colorguard Staff:
Kanisha Castillo
Amy Hancock
Jennifer Henry
Holly Sciuto
Emma Tyree

Percussion Staff:
Eliud Ayala
Tyler Figueroa
Nicholas Ponce
Aaron Rausch

Wind and Visual Staff:
Jonathan Fickle
Adam Muhlestein

Middle School Directors:
Mike Bryan
Rudy Guidry
Kevin Laws
Kevin Swisher

Directors:
Adam Hancock & Cole Lobdell

"The Cosmos is all that is or was or ever will be. Our feeblest contemplations of the Cosmos stir us -- there is a tingling in the spine, a catch in the voice, a faint sensation, as if a distant memory, of falling from a height. We know we are approaching the greatest of mysteries."
- Carl Sagan, Cosmos

Humans have gazed in awe at the night sky since our first days walking the earth. The heavens bear our mythology, our curiosity, our wonder. Our new and expanding knowledge of the Cosmos only reinforces the immensity and the marvel of the universe. Join the 2023 Hanford Marching Band on a journey beyond the planets and into the greatest of mysteries.




---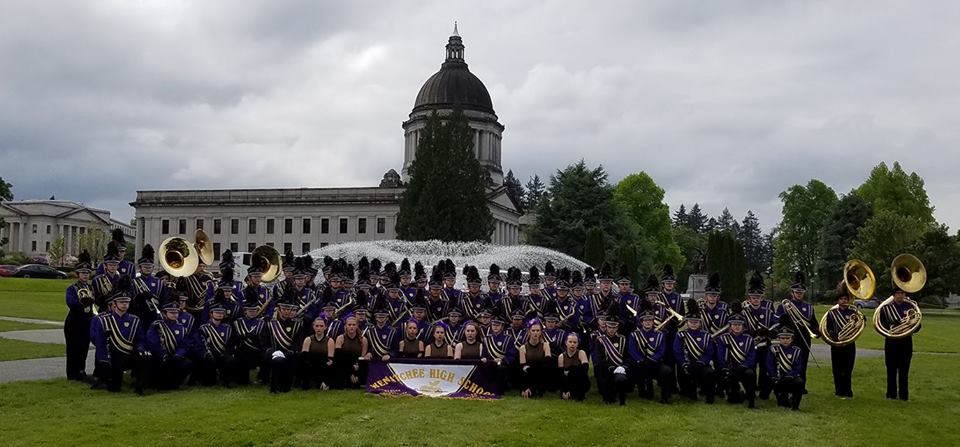 Wenatchee High School
Wenatchee School District
Wenatchee, Washington
AAA Division
Wenatchee High School Golden Apple Band and Colorguard
12:30 PM


Jim Kovach, Band Director

Show Title: The Crown
Director: Jim Kovach
Assistant Director: Tim Zanol
Colorguard Coach: Elvis and Teddy Garcia
Choreography: Elvis Garcia
Visual Coordinator: Lisa Zanol
Percussion Tech: Austin Kovach and Kelsey Lodge
Brass Techs: David Baldock and Tim Zanol
Woodwind Tech: Beth Jensen

Drum Majors: Sophie Macon and Alexa Dickmann
Colorguard Captains: Araceli Perez, Chloe Davidson, and Leonardo Espinoza

Show information:
The Golden Apple Marching Band presents "The Crown," painting a picture of loyalty, courage, and obedience to the king. Since the establishment of the kingdom under the reign of Egbert in 827 AD, there have been 63 monarchs of England and Britain over a period of approximately 1200 years. Step back in time with us to witness the procession, allegiance & defense of the crown and all it represents.



---




West Valley High School
West Valley School District
Yakima, Washington
AAA Division
West Valley Ram Marching Band
12:45 PM


Kirk Knight, Band Director

On October 25, 1415 the English Army under the command of Henry the Fifth defeated the three-times-larger French cavalry outside the village of Agincourt, France. This heroic battle is a noble story of beating the odds and overcoming adversity in the face of defeat.

Visual Staff: Dane Holmes and Kayla Arciniega
Percussion Staff: Jeff Ludlow and Faye Lu
Colorguard Staff: Dollie Dunstan and Hailee Potts
Audio Staff: Alice Koreski

Drum Majors: Sariah Dunstan, Molly Richardson, and Xinyi Wang



---




Pasco High School
Pasco School District
Pasco, Washington
AAA Division
Pasco High School Marching Band
1:00 PM


Tanner Cornell and Taylor Edwards, Band Director

The Pasco High School Marching Band is under the direction of Tanner Cornell & Taylor Edwards.

This year's show, titled "The Art of Balance", is adapted from a Jeff Chambers original show titled "Emotions." While the show displays the art of physical balance, we also reflect on how we balance our emotions, relationships, and the demands of our daily lives. The middle of the show asks, "what happens when things go out of balance?"

Drumline music composed by Taylor Edwards, with additional percussion parts arranged by Taylor Edwards

Drill design by Tanner Cornell

Colorguard Choreography was written by Kat Cornell and LaNae Monroe

Visual staff are Jonas Sanders, Evan Solis, and Joel Garcia

Colorguard staff are LaNae Monroe and Kat Cornell

Percussion staff are Alex Patterson, Rieken Rimmasch, Bella Miranda, and Maritza Velazquez




---




Century Marching Band and Colorguard
Hillsboro School District
Hillsboro, Oregon
Open Division
Century High School Marching Band
1:30 PM


James Dunlop, Band Director

Labyrinth

Enter the Labyrinth if you dare but don't get stuck in the Magic or you might never escape.


Director :Jim Dunlop

Assistant Director: Mike Leone

Drill Design: Jarrod Huntley

Music Design: Cooper Ottum

Sound Design: Tim Mitchell

Colorguard Design: Anthony Reiderer

Choreography: Zach Dye, Genevieve Gahagan

Percussion Design: Derek Bueffel, Andrew Reid, Evan Saab

Visual Caption Head : Ben Grimshaw

Visual Staff: Conner Arndt, Tina Maynor, Alisha Purcell , Aaron Yewman, Morgan Metts

Colorguard Caption Head: Nick Garcia

Colorguard Staff: Dylan Dwyer, Morgan Metts, Brianna Rojo,

Music Staff: Joe Ready, Kate Whitney, Jennifer Martinez

Percussion Caption Head: Derek Bueffel

Percussion Staff: Evan Saab, Susan Leip, Bao-an Lam (Nylo), Cris Castillo, Thomas Lowe


Drum Majors: Madeline Salter, Ryan Jones, Sophia Godoy

Guard Captains: Maren Bybee, Emily Hughes


Music Selections include: Pan's Labyrinth Theme by Guillermo del Toro, Labyrinth by Phillip Glass, Night on Fire by Jon Mackey, Magic Dance by David Bowie, In the Hall of the Mountain King by Evard Grieg




---




Ridgeline High School
Central Valley School District
Liberty Lake, Washington
Open Division
Ridgeline Regiment
1:45 PM


Eric Parker, Band Director

Program Title: More To Me

"More To Me" reflects the unique story of every person who answers the ring bell called life. Round after round, we are met with challenges that sharpen and reveal the character of ourselves, the way we carry ourselves to the next round. We all have a story to tell, a fight to fight, and a victory that sometimes only we ourselves can see. The unique stories that make up all of the members of the Ridgeline Regiment speaks to the revelation that there is more to me, more to you and more to all of us than just our victories and our loses. We hope you feel like a champion of the world by the end of our program. You deserve it!

DESIGN STAFF

Lewis Norfleet - Winds Arranger, Nate Hunt - Percussion and Electronics Arranger, James Haynes - Lead Choreographer, Kirty French - Colorguard Choreographer, Josh Niles - Colorguard Choreographer, Dean West - Winds Choreographer, Evan West - Winds Choreographer, BJ Keogh - Lead Propmaster, Eric Parker - Visual Designer

INSTRUCTIONAL STAFF

Skylar Belfry - Music, Alayna Bell - Colorguard, Madi Binyon - Percussion, Eli Eckelberg - Percussion, Kirty French - Colorguard, James Haynes - Visual, Nate Hunt - Percussion, Rob Lewis - Percussion, Josh Niles - Colorguard, Andrew Wamsley - Percussion, Dean West - Visual and Music, Evan West - Visual and Music

STUDENT EXECUTIVE LEADERSHIP

Gracie Newell - Drum Major, Merrick Stewart - Drum Major, Paige Van Buren - Colorguard Captain, Cannon Parsons - Percussion Captain, Alexis Hochberg-- Winds Captain



---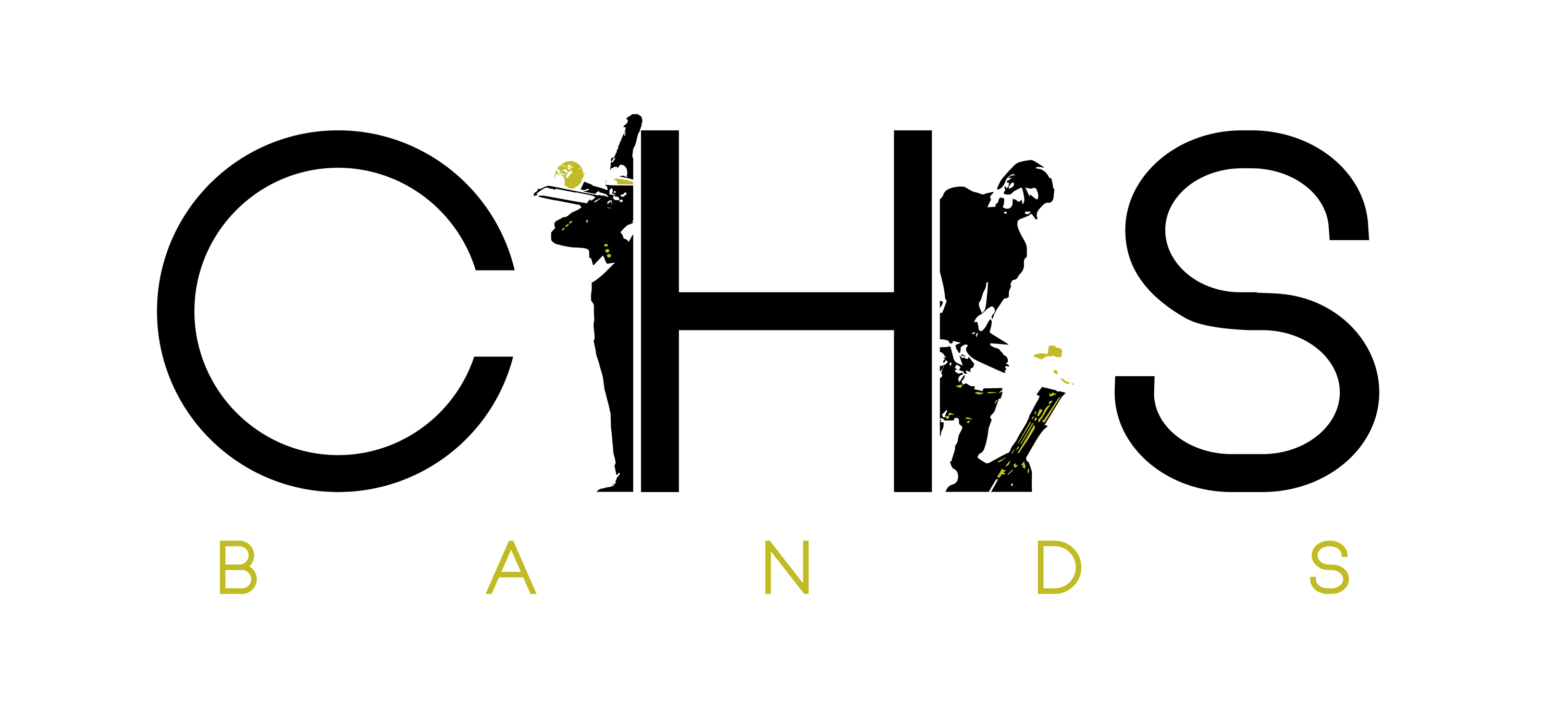 Cheney High School
Cheney School District
Cheney, Washington
Open Division
Cheney High School Marching Band
2:00 PM


Joshua Wisswell, Band Director

Forever changed, our hands, empowered by a myth of the past. Everything we touch changes to gold. What does it mean to have the power of Midas? Is it to be cursed with a lonely life of arrogance and riches? Or to show self control and bless the world around us? Reimagining the long lost story, journey with us down a path not yet explored. The power of golden touch brings light to all of us in harmonious solidarity. Cheney High School is proud to present their 2023 production… MIDAS

Drum Major-Matthew McRitchie
Drum Major-Alyssa Brown
Flute Section Leader-Nora Lonam
Clarinet Section Leader-Dale Pasion
Saxophone Section Leader-Gavin Zacher
Trumpet Section Leader-Lucas Matos
Mellophone Section Leaner-Amira Islam-Zwart
Baritone Section Leader-Lauren Ricketson
Tuba Section Leader-Zachary Bowman
Percussion Section Leader-Avery Mitchell
Percussion Section Leader-Kaitlyn Brown
Color Guard Section Leader-Madison Olsen

Director-Josh Wisswell
Assistant Director-Sam Schlaich
Assistant Director-Chandler Little
Percussion Caption Head-Cory Jones
Percussion Tech-Cody Goforth
Percussion Tech-Gavin Davis
Percussion Tech-Skyler Garvin
Color Guard Caption Head-Joanna Wilkerson
Color Guard Tech-Carrie Greer
Visual/Woodwind Tech-Valerie Hanes
Visual/Woodwind Tech-Callan Hosmer
Visual/Brass Tech-Michael Scott
Visual/Brass Tech-Sean San Pedro
Audio Tech-Erica Little



---




Sumner High School
Sumner-Bonney Lake School District
Sumner, Washington
Open Division
Sumner High School Spartan Marching Band
2:15 PM


Joe Carl, Band Director

The Sumner High School Spartan Marching Band is looking forward to their return to the 2023 Harvest Marching Band Festival. The Sumner High School Spartan Marching Band Staff includes Band Director Joe Carl, Auxiliary Coordinator Ellen Carl, Color Guard Assistant Instructor Laurie Selle, Drill Instructors Tom and Lynette Fuge, and Drumline Coordinator Gavin Hutcheson. 2023-24 Drum Majors are Ella Fulmer, Tomas Navarro, Emerson Blumenstein, and Lillian Sauers. This group has won several parade awards and was the 2022 Auburn Veterans Day Parade and Field Show Competition Sweepstakes Award Winner. These students will be performing at the Sunset Festival of Bands Field Show Competition on Saturday October 28th and returning to Auburn for their Parade and Field Show Competition on Saturday November 11th. The 2023 field show is titled "Bringing Back the Phantom of the Opera" and includes "Phantom of the Opera", Wishing You Were Somehow Here Again", and "Masquerade".



---





Mead High School
Mead School District
Spokane, Washington
Open Division
Mead High School Marching Band and Color Guard
2:30 PM


Brandon Campbell, Band Director

Title: Outside the Box

Description:
When faced with challenges in life, we are often encouraged to think Outside the Box - to approach things in an unconventional way, step outside our comfort zone, and try something new. Mead's 2023 program explores the excitement, fear, and satisfaction that comes from stepping Outside the Box, trying new things, and finding success in new and unexpected ways.

Musical Selections:

A Kaleidoscope of Mathematics - James Horner
A Gathering of Atoms - Joseph Curiale
All Love Can Be - James Horner
The Hand of Fate, Pt. I - James Newton Howard

Arrangements by Lewis Norfleet

Directors:
Brandon Campbell
Rob Lewis

Student Leadership:
Lindsey Leo, Drum Major
Hadeon Pawluk, , Drum Major
Chandra Henderson, Woodwind Captain
Bruce Redden, Brass Captain
Mackenzie Baertlein, Color Guard Captain
Aden Leato, Color Guard Captain
Katherine Selby, Percussion Captain

Design Staff:
Winds Arranger
Lewis Norfleet
Visual Designers
Becca Anderson
Mike Anderson
Jeffrey Capponi
Percussion Arranger
Nate Hunt
Color Guard
Jeffrey Capponi

Instructional Staff:
Hornline: Kyle Kostelecky, Anthony Cao, Dylan Shadd, Isaiah Williams
Battery: Mario Lima, Eric Heale
Front Ensemble: Jonathan Fick
Color Guard: Michelle Marsura, Ellie Hawks, Emma Helt, Lauren Ruckhaber, Kristen Sefton




---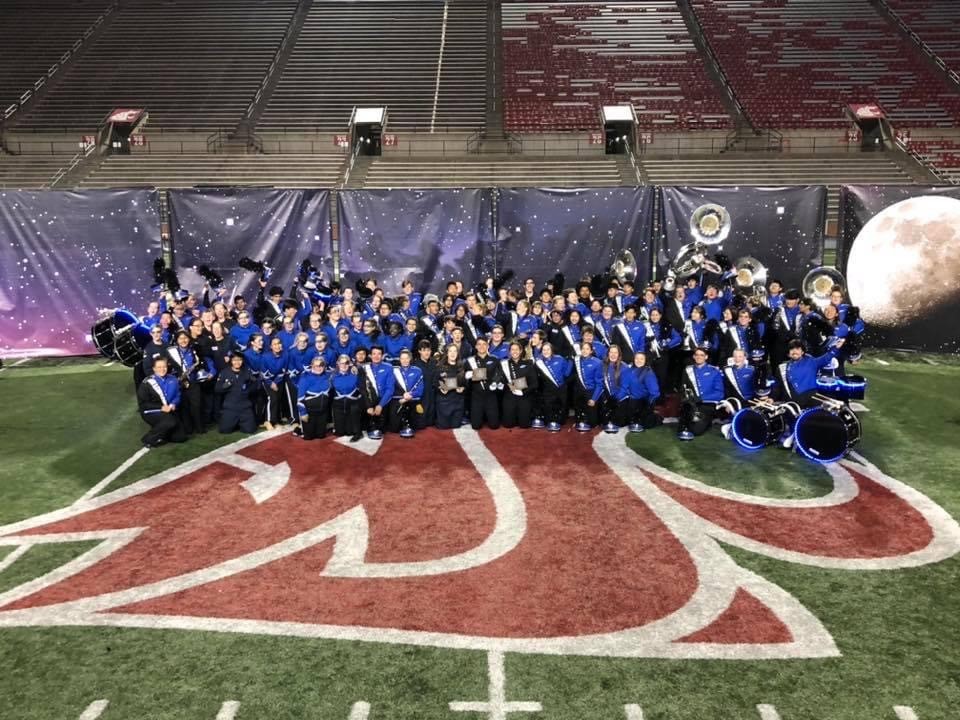 Chiawana High School
Pasco School District
Pasco, Washington
Open Division
Riverhawk Marching Band
2:45 PM


Peter Blake and Kevin Clayton, Band Director

Directors - Peter Blake, Kevin Clayton, Dillon Miller
Spencer Blake - Brass
Esteban Zarate - Brass
Aaron Santos - Winds
Melissa Jones - Winds
Colby Muchlinski - Drum Majors, Winds
Matt Henderson - Percussion
KC Flynn - Percussion
Kory Smith - Percussion
Nayely Garcia - Guard
Victoria Kasparek - Guard
James Haynes – Choreography

Music Selections
Deliver Us - Stephen Swartz
Hello - ADELE
The Other Side - Benj Pasek and Justin Paul
Original Music by Jeff Chambers
All arrangement done by Jeff Chambers
Sound Design by Tim Mitchell

Show Title
The Other Side

Synopsis
In all of our lives, we experience Duality.
Up and Down, Left and Right.
Darkness in the evening, and the morning's fresh Light.
There are two sides of every story you know.
How often do we stay on one side, because that is all that we know?




---




A.C. Davis High School
Yakima School District
Yakima, Washington
Exhibition Division
A.C. Davis Marching Band
3:00 PM


Brian Beck and Samuel Howard, Band Director

Program Title: Sky Above

The Davis Band's 2023 program is titled Sky Above composed and arranged by Jeff Chambers, Reese Maultsby, and Tim Mitchell. Visual design by Brian Beck, choreography by Elaine Fite, and Kevin Ford is the Design Consultant. Sky Above features music from Imagine Dragons, Aram Khachaturian, Coldplay, The Beatles, and Jacob Collier. This program includes the following movements: 1. The Storm 2. Sky Full of Stars 3. Here Comes the Sun. That Davis Band's 2023 program explores the different states of the sky and its inspiration for art, music, and poetry.


Director(s):
Brian Beck
Sam Howard

Design Staff:

Jeff Chambers -- Winds Arranger
Reese Maultsby -- Percussion Arranger
Tim Mitchell -- Electronics Design
Brian Beck -- Visual Design/Program Coordinator
Elaine Fite -- Choreographer
Kevin Ford -- Design Consultant
Manuel Pedrosa -- Art Design
Sean Dorn -- Prop Design

Instructional Staff:

Brian Beck -- Band Director
Samuel Howard -- Band Director
Martin Obrero -- Visual Caption Head/Clarinet Instructor
Brian Cardenas -- Flute Instructor
Carter Little -- Saxophone Instructor
Ian Monahan -- High Brass Instructor
Jaime Ramos -- High Brass Instructor
Sascha Burkhardt -- Low Brass Instructor
Kevin White -- Percussion Caption Head
Hannah Rolfson -- Front Ensemble Instructor
Jeff Ludlow -- Battery Instructor
Jon Connors -- Battery Instructor
Elaine Fite -- Guard Caption Head
Nic Moore -- Guard Instructor
Braley Poston -- Guard Instructor
Fernando Flores -- Guard Instructor
Lexi Shaffer -- Guard Instructor
Maggie Whiteman -- Drum Major Instructor

Student Leaders:

Juan Aguilar -- Drum Major
Josiah Helms -- Asst. Drum Major
Bella Garcia -- Asst. Drum Major
Axel Galindo -- Asst. Drum Major



---




Eisenhower High School
Yakima School District
Yakima, Washington
Exhibition Division
Cadet Marching Band
8:15 PM


Jeremy Freisz and Chloe Pierce, Band Director

Eisenhower Marching Band Staff:
The Cadet Marching Band is under the direction of Chloe Pierce and Jeremy Freisz.

Visual Design Coordinator-Tyler Jones

Marching Instructor-Kolby Arnold

Color Guard Coordinator-Hailey Adkison

Color Guard Assistant-Christian Fausto

Flute instructor-Andrea Audelo

Clarinet instructor-Fransico Gonzalez

Saxophone instructor-Kaielin Crowner

High Brass instructor-Kolby Arnold

Low Brass instructor-Brad Dawson

Percussion Coordinator-Miranda Wojciechowics

Front Ensemble instructor-Andrew Button

Show Description:
Eleanor Rigby is a woman who finds herself lonely at the end of her life. Paul McCartney's iconic lyrics paint a picture of her sitting alone in a cathedral as watches the rest the world from the sideline. Subtitled "A Symphony for Eleanor," this show realizes the life story of the title character from the famous Beatles song and celebrates her lessons and accomplishments.



---